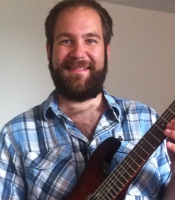 Wilson was born into a musical family in Ottawa and is now a Toronto-based freelance musician who is completing his degree at the prestigious Humber College Bachelor of Music Program, with honours and scholarships. His skill set includes writing, arranging, performing, teaching, sound engineering, and directing in a wide variety of musical styles, most notably jazz and electronic.

Wilson is a true visionary and is constantly pushing the boundaries in search of new sounds which can be found in his unique electro-jazz compositions and improvisations. Majoring in guitar, he is a multi-instrumentalist and has also performed on piano, bass, drums, and voice.

He has performed across Canada including Montreal, Halifax, Vancouver, Ottawa, and Toronto's finest jazz venues including The Jazz Bistro, The Rex, and The Reservoir Lounge. Wilson's depth of theoretical and practical musical knowledge makes him an asset to any musical situation.

Wilson has Studied under leadership of Ted Quinlan, Geoff Young, Hilario Duran, Shannon Gunn, Shirantha Beddage, Pat Labarbra, Kirk MacDonald, Brian Dickinson, and John MacLeod, amongst others.

In 2013, Wilson wrote his most interesting compositions to date including the contemporary jazz works Trapezoid and Cyberban, as well as an all-electronic album entitled "Electron Circuit", featuring such tracks as Dilithium Crystals. Many of Wilson's central writing themes include space, science and abstract images, giving illustration to imagination through music and visuals. Some of Wilson's influences include Kurt Rosenwinkel, Allan Holdsworth, and Secret Rhythms.
---